hello everyone!
I know I said I would do this earlier, as usual life gets in the way....I've been very busy this summer and it's still the beginning! Camp WhichCraft is officially open. I have 2 kids registered full time. Aside from entertaining them I've been extremely busy with client work. (not that I'm complaining) :) I love what I do. Hobby turned career!
A BIG thank you for all of the lovely comments and Welcome to my new followers.
The winner was chosen by Random.org. I couldn't believe it when I saw the number 1 come out.
************MISTY**************
These are the great comments she left for me.
Day 1
That is So super cute!
Hummer Hugs,
Misty
Day 2
Wonderful frame!
Hummer Hugs,
Misty
Day 3
Great job on all the projects. Love the letter cutout!
Hummer Hugs,
Misty
Thank you for the lovely comments! Send me your address so I can get your goodies out to you.
Keep an eye out....in a couple of weeks I'll be participating in an awesome blog hop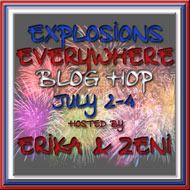 Happy Crafting!
Liz